Adverse Effects

1.Type A adverse reactions
a)Are rarely seen in the clinical practice
b)Cannot be pharmacologically antagonized with other drug
c)Are well predictable
d)Are responsible for the highest mortality
e)Are dose-related

2.Typical type A adverse reactions are as follows
a)Bleeding after therapy with anticoagulants
b)Hypoglyceamia after the insulin therapy
c)Urticaria after the antibiotic treatment
d)Cardiotoxicity of anticancer chemotherapeutics
e)Hypotension after the administration of antihypertensive agents

3.Type B adverse reactions
a)Are typically mild
b)Will disappear after continuous treatment
c)Are unpredictable
d)Are responsible for the high mortality
e)Can be eliminated with the individualization of the dose

4.Idiosyncratic reactions
a)May be fatal
b)Can be associated with inherited abnormal activity of enzymes
c)Occur infrequently (1:10000)
d)Require a previous contact with a drug
e)Are due to genetic polymorphism in pharmacokinetics or pharmacodynamics

5.Drug allergy
a)Concerns only the protein drugs
b)Concerns only low molecular weight drugs (<1000)
c)May imply previous exposure to some closely related drug
d)Is solely determined by the genetic information
e)Implies previous exposure to the drug

6.Type I allergic reactions are
a)Are due to pharmacologically active substances that are released from mast cells
b)Developing within the days/weeks after the drug exposure
c)Due to the production of IgG antibodies
d)Due to the production of IgE antibodies
e)Cell-mediated cytotoxic effects

7.Typical consequences of type I allergic reactions are
a)Alopecia
b)Bronchial asthma
c)Anaphylactic shock
d)Laryngospasm
e)Liver disease

8.Type II allergic reactions
a)Are cell-mediated cytotoxic effects
b)The antibodies are able to fix complement on the surface of cells, causing cell lysis
c)Are due to production of IgE antibodies
d)Are due to production of IgA antibodies
e)Are due to production of IgM and IgG antibodies

9.Typical consequences of type II allergic reactions are
a)Glomerulonephropathy
b)Urticaria
c)Agranulocytisus
d)Hemolytic anemia
e)Thrombocytopenia

10)Type III allergic reactions
a)Are usually mild
b)Include serum complex glomerulonephritis
c)Include serum sickness
d)Are due to immune complexes
e)Are due to the production of antibodies of class IgM

11.Type IV allergic reactions are
a)Cell-mediated
b)Developed minutes to hours after acute drug exposure
c)Mainly topical reactions (contact dermatitis)
d)Usually delayed hypersensitive reactions
e)Mainly haematological reactions

12.Type C reactions
a)May be severe and irreversible
b)Include analgesic nephropathy
c)Include anthracycline cardiotoxicity
d)Are due to long-term use
e)Are due to acute overdose with the drug

13.Type D reactions
a)Are due to DNA changes
b)Include mutagenesis
c)Include teratogenesis
d)Are delayed reactions
e)Include carcinogenesis

14.Type E reactions
a)Can occur only in psychopharmacological agents
b)Involve rebound reactions
c)Can be associated with changes in the receptors density and/or sensitivity
d)Involve withdrawal symptoms following discontinuation of the treatment
e)Are enzymatic reactions

15.Management of A type drug adverse reactions is as follows
a)Decrease of the frequency of dosing can be helpful
b)Antidote changing the drug disposition and facilitating drug elimination can be used
c)Antidote antagonizing pharmacologically the effects of the drug can be used
d)The patient should be recommended to increase the drug dose
e)The patient must always be switched on another drug immediately

16.Management of B type drug adverse reactions is as follows
a)Drug suppressing the activity of the immune system or histamine release/action can be helpful
b)The patient should avoid future exposure to the drug or related compounds
c)The treatment should be stopped immediately and/or alternative therapy with different drug showing no cross-hypersensitivity should be initiated
d)The treatment should be continued with decrease dosage of the drug
e)The treatment should be continued to let the adverse reaction disappear spontaneously

17.Precautions enabling to avoid C, D, E types adverse reactions are as follows
a)E-type: gradual discontinuation of the chronic treatment may suppress these reactions
b)D-type: only limited exposure in serious diseases (eg. Cancer) may justify their clinical use
c)D-type: drugs have to be carefully tested for these drug reactions during their preclinical development
d)C-type: only the OTC drugs can be used chronically, since these are safe
e)C-type: patients should avoid chronic use of drugs if it is not necessary

18.The risk of drug interactions
a)Is one of the sources of the medication errors causing additional unnecessary costs
b)Should be considered during drug prescription to avoid unnecessary complications
c)Is present only in those drugs which are absorbed and have some systemic effects
d)Is also present in number of OTC drugs
e)Is generally higher in elder patients receiving multiple medication

19.Pharmacodynamic interactions
a)Can result in severe or life-threatening event
b)Is usually well predictable from the pharmacodynamic characteristics of the drugs
c)Can take place when bothe drugs are acting on the different target molecules
d)Can take place on the same drug target molecule (receptor)
e)Can result in either increase or decrease of the drug effect

20.Pharmacokinetic interactions – absorption and distribution
a)Competition for plasma protein binding sites can only be clinically significant when both drugs are bound extensively
b)Competition for plasma protein binding sites results into the decrease of drug effect
c)Food does not have any impact on drug absorption and BAV
d)Drugs affecting the local perfusion can have a significant effect on the absorption of other drug
e)Drug absorption can be decreased when adsorbents (eg. carbo medicinalis) or laxatives are co-administered

21.Drugs
a)Inhibit the activity of liver enzymes are: erythromycin or ketoconazole
b)Inducing the activity of liver enzymes are: barbiturates, phenytoin, carbamazepine, griseofulvin, rifampicin
c)Can alter the metabolic activity of some particular enzymes or isoenzymes
d)Inhibiting the activity of the liver enzymes are responsible for decreased effects of co-administered drugs
e)Inducing the activity of the liver enzymes are responsible for increased effects of co-administered drugs
Parasympathetic is the one for this week..and next week is Sympathetic.
Parasympathetic [url=http://adf.ly/246619/]mediafire.com ytemcl3yro0[/url]
Sympathetic [url=http://adf.ly/246619/]mediafire.com njnnwjydozm[/url]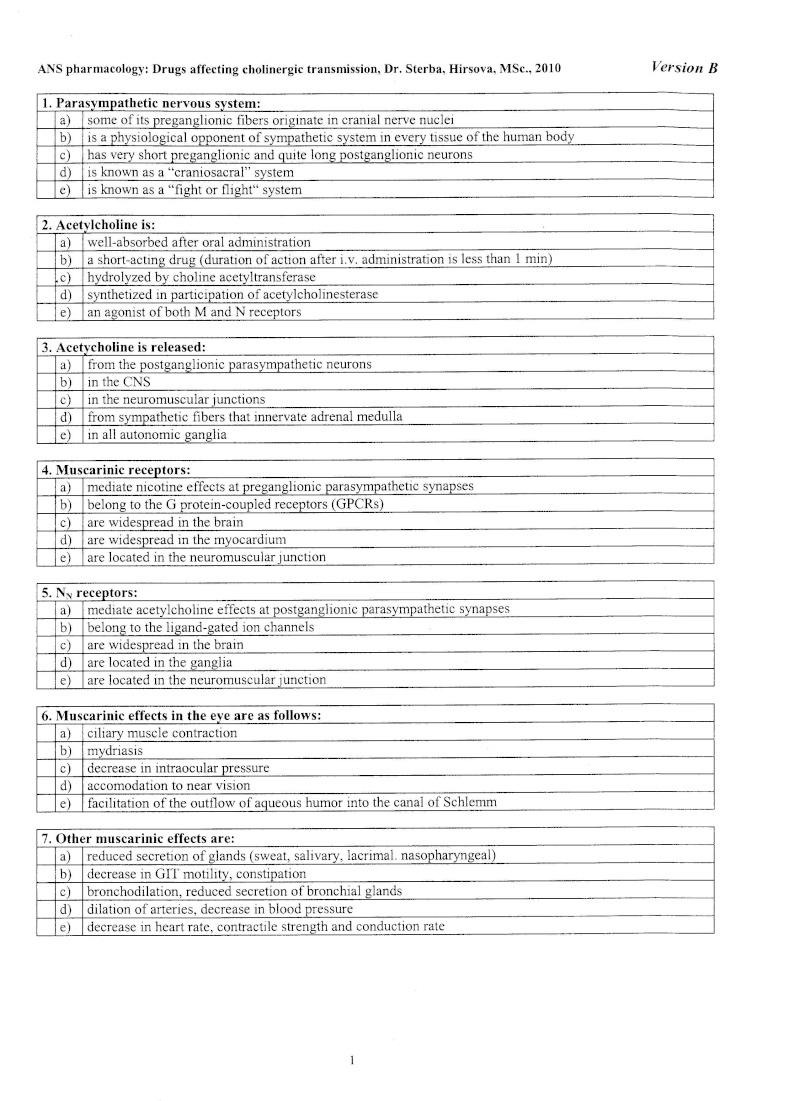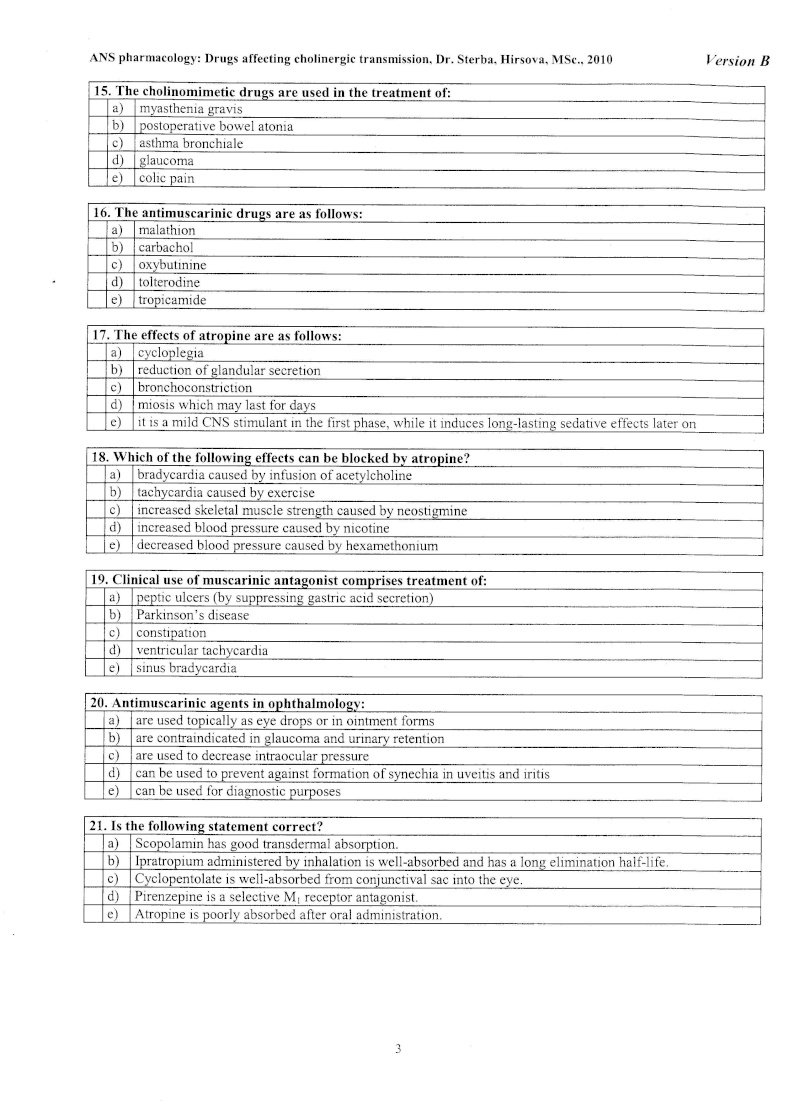 mediafire.com 19-2010-sympatomimetics.ppt

mediafire.com 20-2009-sympatolytics.ppt

mediafire.com 21-2010-diuretics.ppt
Antiarrhythmics mediafire.com mmtv2iez3it
Diuretics mediafire.com jmmm2kmwjmg
Glycosides mediafire.com mynfyhutzzy

Btw, I don't think these are exact past papers...it seems to be something the seniors made up but in question forms.



and for test 8 mediafire.com ltj3zxlytzi

---
Permissions in this forum:
You
cannot
reply to topics in this forum